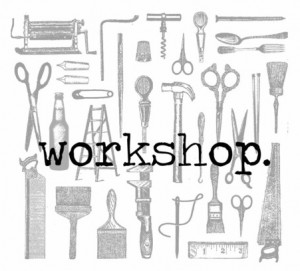 Workshops are a great part of THATCamps where participants are able to receive instruction on useful tools from people who really know how to use them. For THATCamp Performing Arts we are lucky to have a great roster of workshops on a wide variety of tools, platforms and techniques that help with the design, preservation, collection, archiving and presentation of digital performance materials. Thanks to all of the willing instructors and we hope you all enjoy!
ALL WORKSHOPS WILL TAKE PLACE IN ROOM 8402
SCHEDULE
Thursday
11:00-12:10 – Sketchup
2:00-3:15 – Digital Preservation
3:25-4:40 – WordPress
Friday
10:30-11:40 – Shared Shelf
11:50-1:00 – Omeka
1:10-2:20 – Prezi
DESCRIPTIONS
Thursday
11:00-12:10 Sketchup – Mary Isbell
Recent projects reconstructing performance venues like Virtual Paul's Cross  and Abbey Theatre, 1904 have involved collaborations between humanities scholars and students or professionals trained in 3D modeling software. But what if you want to get a sense of a performance venue's space and don't have such a collaborator? What if you want to cultivate such a partnership, but first need a proof of concept to secure funding? Sketchup is an extremely powerful and completely free modeling program that provides the perfect place to get started.
I will introduce Sketchup by directing participants to build a simple structure in 3 dimensions, and then use that structure to demonstrate a few of the features that make it easy(ish) to reconstruct performance venues from plans and photographs. After we've collectively experienced the difficulty (joy!) of modeling the real world from simple geometric shapes, we will conclude by discussing two other options for reconstructing venues: inexpensive data acquisition and parametric modeling.
This will be a hands-on workshop, so please download the newest version of Sketchup here so you can follow along. (select "educational use" from the drop-down menu and then select "Sketchup Make," which is the free version)
2:00-3:15 Digital Preservation – Doug Reside
In this workshop, we will discuss the "born-digital" archives being generated by performing artists today, and examine how they may be preserved and served to future researchers.
3:25-4:40 Working with WordPress – Andrew Horowitz
Working With WordPress: A beginner's guide to getting a website up and running quickly and how to take advantage of WordPress's native functionality. Learn the basics of building in WordPress and discuss the pros and cons of custom installs vs. hosted solutions.
Friday
10:30-11:40 Shared Shelf – Sian Evans
Shared Shelf is a media management software that enables institutions to manage, store, use, and publish their institutional and faculty media collections within their institution or publicly on the Web. A number of institutions are making their special collections, including multimedia collections, available on the open web via Shared Shelf Commons as well as by our Omeka plug-in.
At the suggestion of Miriam Deutch (Brooklyn College), in this session I propose to do a brief tutorial of Shared Shelf's tools and then talk about some interesting use cases in the performing arts. A number of CUNY institutions are just coming to the end of their trial access to Shared Shelf, so hopefully this session would introduce other librarians to the software as well as some ways to work with multimedia to catalog the many different file formats performance documentation can take.
In this workshop you will learn how to use Omeka to create and organize a digital archive. Omeka is an open-source tool designed to manage and display collections of cultural objects in digital formats (images, video, documents, sound, etc.). The main goal of the tool is to be user friendly, and you will discover that as we study both its functions and its design. The workshop does not require you to be a digital expert. Simple familiarity with common tools like Microsoft Word, Google or WordPress should suffice. We will be using the version of the software provided on omeka.net. Please sign up for a free account before coming to class. We also ask you to bring a small collection of files that you would be interested in collecting online. These can be .mp3's, .pdf's, .jpg's, .txt's, or any other common file format.
1:10-2:20 Prezi for Visualization – Kimon Keramidas
Prezi is a web-based next-generation presentation tool designed as a more dynamic and interactive alternative to Powerpoint. While useful in this way, Prezi's design in fact allows for a much broader range of applications, and its ease of use and visual flexibility make it a powerful tool. This workshop will discuss a number of different strategies for using Prezi including as a thought map, for rapid interface prototyping, for hand-crafted visualizations, and for the development of visual syllabi and other teaching tools. Participants who are able to bring a laptop to the workshop are encouraged to come to  with a project in mind and a collection of visual assets to work with.